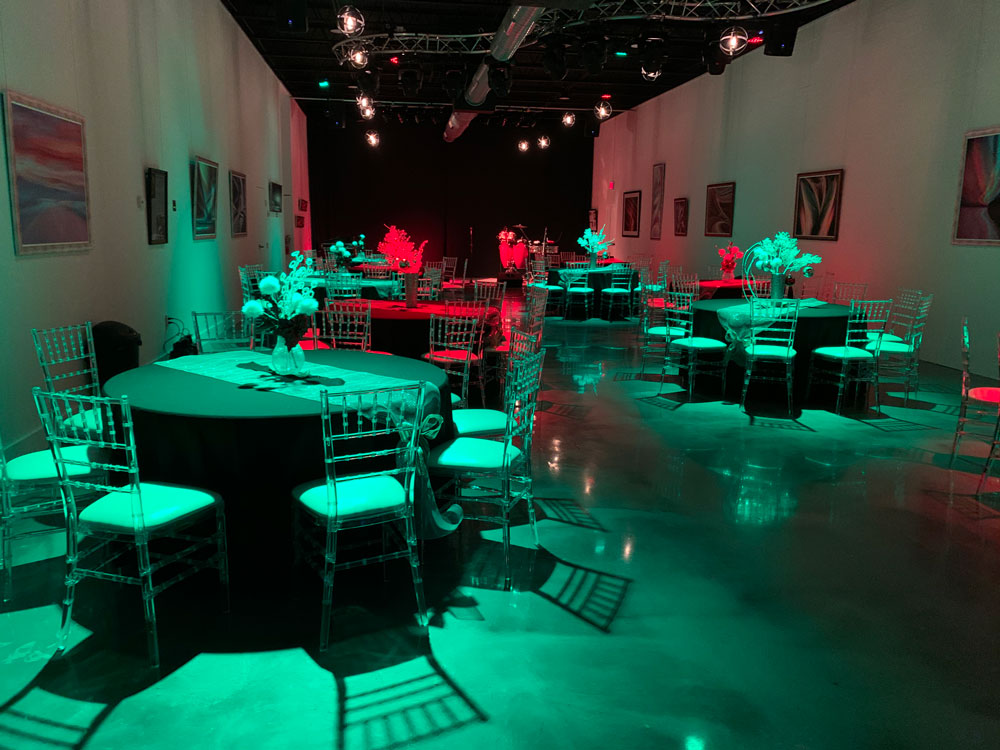 Wedding and Live Performance Venue in Tampa, FL
A distinct place like no other
All Art Studio Tampa is very versatile with an indoor event space and lecture venue set in an active gallery
A rare gallery room space for private exhibits, traveling exhibits or organizational Art Fund raisers
Highly sought Outdoor space with approx. 11,000 square feet
Whether you're hosting a wedding reception or an art exhibit, the right venue sets the tone for any occasion.
Our attentive team provides the space and support for your project, so you can focus on enjoying your special event.
About Our Space
Our gallery room in Tampa, FL, known as Galleria T, has an in-house exhibit room that can be replaced with your artwork to support your purpose. Whether you wish to hang two-dimensional artwork like photographs or paintings, or want to add the magic of video to your event, our production team is ready to help you design.
We also have an outdoor entertainment area and live performance venue to take full advantage of Tampa Bay's year-round beautiful weather. Our combination of indoor and outdoor event space is unlike any other in the area, and we know you and your guests will be impressed!
Complete Venue
Accommodating 150, our venue brings you the space you need to enjoy the company of others and come together for the occasion. From larger gatherings like weddings to small classes and seminars, we tailor the space to fit the event. Here are just some of the ways you can use our bright and modern art show room and event space:
Art Exhibitions
Photograph Exhibit Rooms
Corporate Receptions
Lectures
Classes
Weddings
Baby Showers
Sweet Sixteens
Quinceañeras
Band Performances
Anniversary Parties
Birthday Parties
We're also the premier corporate event and lecture venue in Tampa, Brandon, Seffner, and Town 'N' County, FL. Our space offers a level of sophistication to any corporate event, from business meetings to receptions, seminars and more. When you need a space to reflect a level of professionalism and attention to detail, contact us and our dedicated wedding venue team will work with you every step of the way.
A Modern Venue for Every Event
At All Art Studio Tampa, we have a passion for helping you bring your special event to life. From wedding venues to corporate receptions, we work hard to make sure our space is the perfect backdrop for your event.
Reserve our art show room and live performance venue now by giving us a call at 813-522-0808.